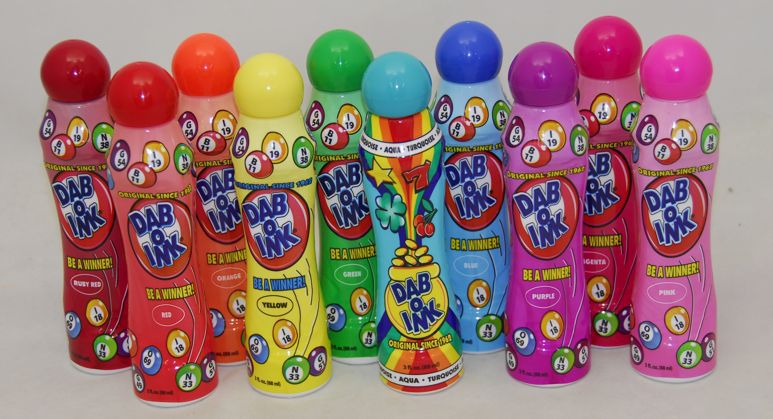 Bingo Daubers are one of those things that any avid bingo player needs to have in stock, especially if they like to win.  You may be looking for the cheapest bingo daubers or maybe you want some special themed bingo dabber selection for your next game.
Here at PA Games we offer the regular daubers but we also have something very unique, compared to any other bingo supplier out there.  We are currently offering the regular ink dabbers, which are in the 4 oz bottles but we also have one more kind of ink that is currently in high demand.
Scented Bingo Daubers
We actually have scented bingo dauber bottles in stock that are also made with the brighter ink.  Some companies sell their ink with the regular colored ink and then they offer the bright ink, which has many different names depending on which company you are purchasing from.
Our scented dabbers are called the Pearl Scent, which is the fluorescent colored ink, providing a brighter dab on your bingo sheets.  We currently have 6 different colors and scents.
Purple – Grape scented
Blue – Blueberry scented
Red – Strawberry scented
Yellow – Banana scented
Green – Green apple scented
Orange – Orange scented
We plan on bringing in new colors and scents but these are what we currently have in stock.  Some of the new flavors we are working on are margarita scented, beer scented, and many more creative color and scent combos.
If you have any special requests for new scents, please give us a call or send us an email so we can help you out.  People love our new scents because they add some extra fun to your bingo games.
Does Your Significant Other Smell Bad?
You probably need some dabbers that smell good so you can smell your ink instead of the stink from your husband or wife (usually husband).  We tried it out and it actually works.  Our ink is safe for children as well so no need to worry about smelling this ink with any side effects.
Give us a call today at 1-800-782-9001 or send us an email at sales@pagames.com to get more information on our daubers.
You can go to our store directly at https://scentedbingodaubers.com